ENFORCE CONTROLLERS
NEW! DSP3000 MFC PRESS CONTROLLER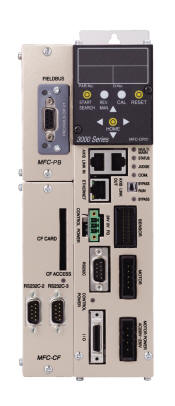 The DSP3000 controller allows full press parameter setup and control of the complete pressing process internal to the controller (built-in press algorithms). Simply set up the press parameters, use the Input/Output signals to start the pressing process and the system handles the complete press process. Onboard sequencing including control of up to 32 presses from a single I/O connection point. Three controller models cover the full range of the press tool sizes.
As a result of circuit miniaturization reducing the overall size, the back panel mounted controllers save valuable plant floor space and safely allow all electrical connections to be contained within the electrical enclosure.
CONTROLLER Features:
Load Control / Distance Monitor, Distance Control / Load Monitor, Part Check / Interference Monitoring, Band Check Monitoring
Fully Digital System reduces power consumption
Reduced Set-up time - The addition of the Main control functions (for multiple presses) into each controller eliminates the need for a "Main Unit" controller. Controllers can be set as a "Master" or "Slave" - Easily configured using "no cost" DSP3000 User Console Software.
Simplified wiring - In a multiple Press configuration, the Master Unit assumes control of the control signals - no need to wire I/O to each spindle.
Automatic press tool load cell identification system to confirm correct press / operation
External Control interfaces (Fieldbus) - By using the Fieldbus expansion unit, a variety of Fieldbus I/O interfaces are available to interface to the controlling PLC. (Devicenet, Ethernet I/P, Profibus, CCLink, Profinet, EtherCat and more)
On-board press cycle data and load / distance curve storage
Press data storage to Compact Flash (Optional)
High speed communication with connected spindles and Host PC - more than 250 times faster than previous series
Separated 3 phase motor power (200-230VAC) and 24Vdc control power provided for connection to safety circuits
Reduced size - Controllers have a smaller footprint than previous series
Updated Display Unit with 2 rows of 6 digits and updated function / cursor key
DIMENSIONS AND APPROXIMATE WEIGHT
Dimensions(H x D x W) :235mm x 192mm x 95mm
Weight: MFC-S060-S (2.9Kg), MFC-S120-S: (3.7kg)
DSP1500 SAN4 SERVO PRESS CONTROLLER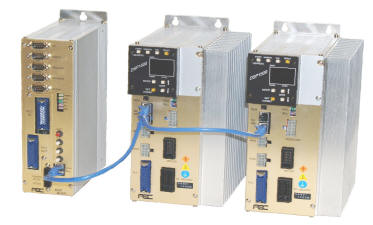 Three controller models cover the full range of press sizes. As a result of miniaturized circuit technology, the compact units maintain a maximum width of 123.5mm (largest model) in spite of the built in power source and servo amplifier. All 3 controllers are back panel mountable and feature the following:
Isolated Gate Bipolar Technology (IGBT).
Fully Digital System (eliminates analog potentiometers).
32 different work parameters (part programs) that can be stored into Flash ROM. No battery backup required.
External communication is available through (2) RS-485 ports. Connecting a group of up to 31 press controllers is also possible through this port when communicating using the DSP User Console Software.
A hot-swappable Display Module is available for viewing result data and can be used to program individual controllers. The RS-232 version can output single press ASCII data to a serial device.
MAIN UNIT CONTROLLER
The Main Unit is a complimentary controller device to enhance the DSP1500 capabilities by providing the data communication and sequence control features for single and multiple (up to 31) press applications. The use of the Main Unit reduces valuable engineering, start-up and debug time by allowing full sequencing functionality & press data to be handled independently of an outside controller (PLC). Additionally, all Input / Output functions are assumed by the Main Unit for all connected presses while also allowing use of a multiple of standard Fieldbus Interfaces.
Optional fieldbus capabilities for: Ethernet I/P, Allen Bradley Remote I/O®, DeviceNet®, Interbus-S®, Profibus®, CC-Link® and Modbus Plus® are available eliminating hard wired I/O thus reducing debug & start-up costs. Additionally, Ethernet I/P, CC-Link® & DeviceNet® technologies allow transfer of resultant press data across the same communication link as the I/O.