AFC3000 USER CONSOLE SOFTWARE
Software is a Windows® based programming interface that allows users to :
Communicate/program and monitor up to 32 spindles at the same time
Read/write/edit and check operational parameters
Display/save and print fastening resultant data
Monitor and setup I/O & fastening data output
The AFC User software allows easy set-up & monitoring of multiple spindles (with or) without the use of controller display modules.
With our user-friendly, Windows®-based software, the operator can access and manipulate various fastening data, such as fastening parameters, fastening result, data analysis and maintenance data. An onscreen HELP function is included to help the operator navigate each field. Display options can include use of a PC or Laptop, a unit-mounted display only, or some combination, depending on the application. The same software can run a single unit or a complex, multiple-unit configuration.
MINIMUM SYSTEM REQUIREMENTS
Supported Operating Systems
Desktop O/S: Windows XP SP3, Windows Vista SP1, Windows 7, Windows 8, Windows 8.1 & Windows 10.
Server O/S: Windows Server 2003 SP2, Windows Server 2008, Windows Server 2008 R2 & Windows Server 2012.
Supported Architectures:

x86
x64
ia64 (some features are not supported on ia64 for example, WPF)

Hardware Requirements:

Recommended Minimum: Pentium 1 GHz or higher with 512 MB RAM or more
Minimum disk space:
SOFTWARE PRICE: FREE WITH PURCHASE OF AFC3000 SYSTEM
AFC3000 DATA ANALYSIS SOFTWARE
The AFC3000 Data Analysis Software is a utility tool to quickly and easily analyze the output data from the AFC3000 Fastening system.
The powerful data search engine allows users to search the data by date, time, and/or part ID data and calculates statistical data such as data count, maximum, minimum, average, sigma, CP and CPK of each available data type.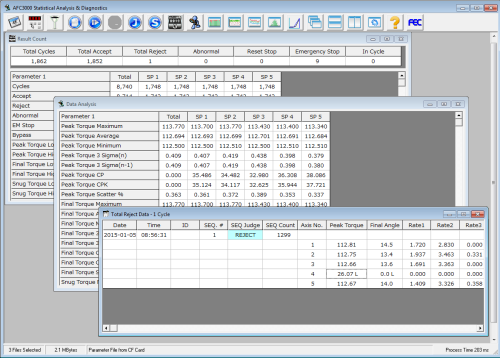 Up to 100 of the last fastening results can be plotted out graphically (X Bar R) for each data type.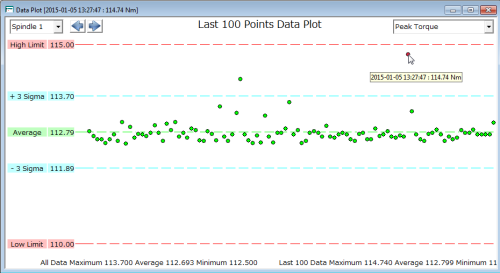 Torque (X-Y) curves can be plotted along with fastening result data.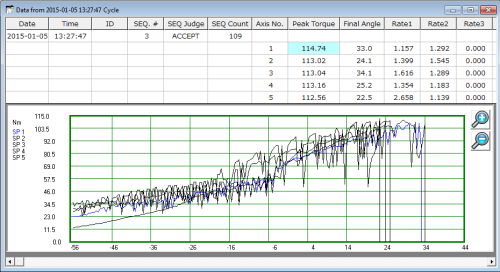 Histogram (distribution) charts can be displayed from the last 100 data cycles